01
Authentic hi-fi from vintage to modern has one constant -- mechanical dials that just feel awesome to turn. I designed an interaction system around a single dial. The ring is multimodal, controlling functional targets selected on a round touchscreen in the center. This solution provided a broad enough scope to cover all the objectives while also providing an opportunity for a premium, signature feel.
Prior to proceeding into the hardware stages of the project, I invited everyone to challenge and scrutinize the model - which resulted in refinements that made the design stronger.
Samsung's SmartThings team took special interest in the project early on. They were excited about the potential Tune could bring to their platform. As such, they extended incredible level of support to the smart home control features. Tune could control lights, security systems, door locks, and more from the touch interface and the voice control trigger. We even got it to stream in video feeds from security cameras, and obviously serve as an audible alarm when a connected security system became triggered.
To test the interaction model, I partnered with engineer Venkata Nandanavanam to build a prototype device using a phone and an Arduino with an encoder connected to a machined copper ring. This informed additional refinements to the UI.
I made several videos like this to illustrate the intended outcomes to the program team.
Unfortunately, one of my favorite ideas was to dial-in a desired tempo for dynamic streaming playback. None of the streaming services we spoke to were ready for something like this yet, so I had to scrap it.
02
Concurrent hardware prototyping projects covered getting the mechanical wheel just right, the sound quality as premium as possible, and the industrial fit and finish precise down to the fraction of a millimeter.
User testing convinced me it would be a good idea to put tuning, input and voice interface triggers on the front panel rather than the touch UI, which had to be woken up... one less tap for these frequent functions.
Sound design models were 3D printed in carbon and tested rigorously on nights and weekends by yours truly.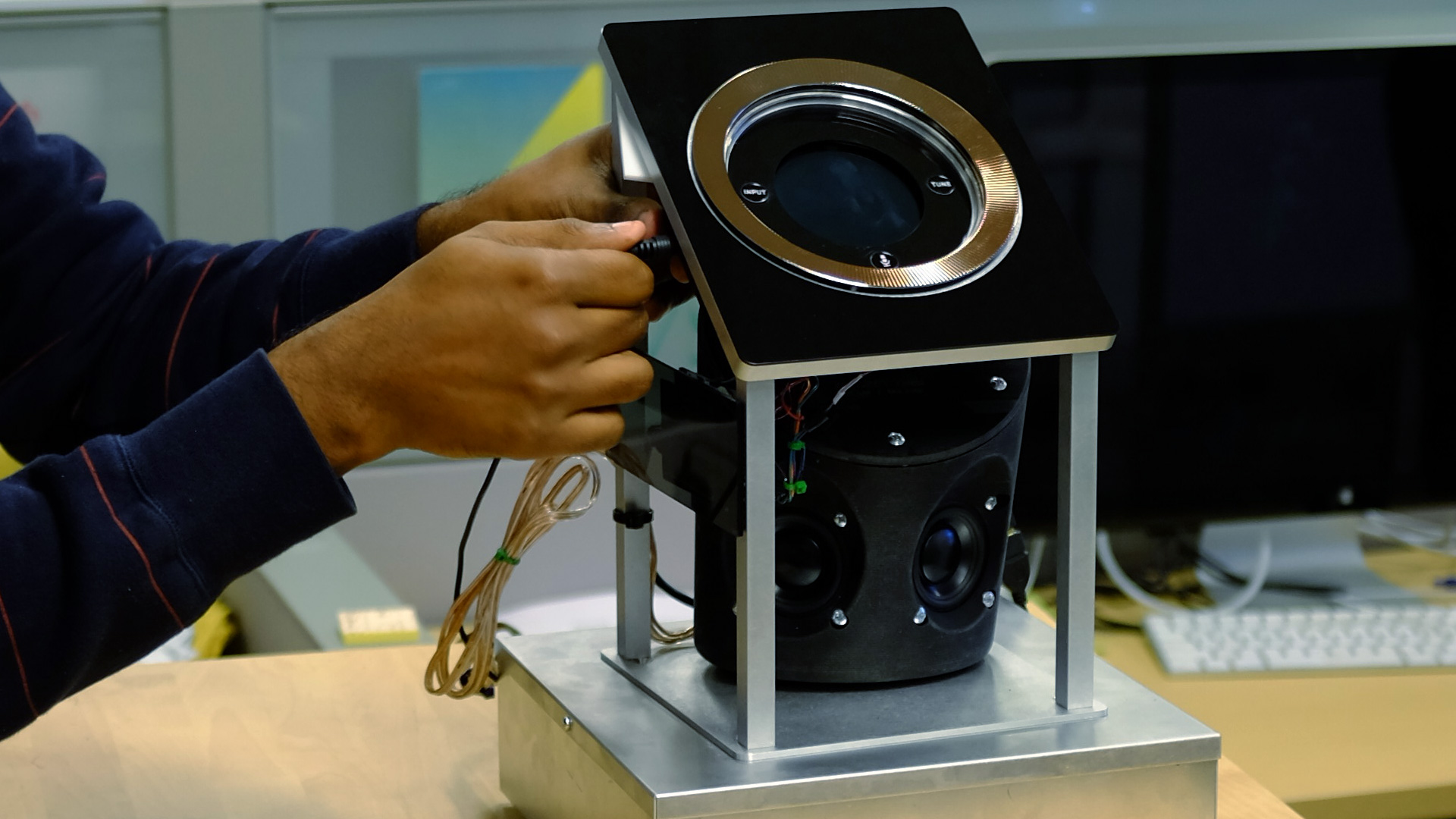 The whole team was pretty blown away by the sound quality of the final engineering spec. It had to be just the right drivers, angles, placement, power, EQ and other technical metrics to sound this good.
03
The multi-speaker / whole-home audio function is as simple as tap. The first unit tapped creates the group, and subsequent units join that group. Multiple group assignments could be assigned through the settings, but I didn't see any reason to force this by default after research convinced me most customers won't need more than one playback group.
I made a bunch of videos like this to explain the desired outcomes because some of the developers thought the documentation was incomplete due to there not being more than two steps for most functions.